Convention News
2016 Convention
Calgary, Alberta, Canada
Friday July 29 - Sunday July 31

2016 Convention Theme:
Pack Your Research Toolbox

A convention for people of German origin interested in the genealogy, culture and history of their ancestors who migrated through Russian Poland, Volhynia, and surrounding areas.

The dates of the 2016 SGGEE convention in Calgary, Alberta, Canada, have been changed to late July due to an unforeseen scheduling change by the hotel. We apologize for any inconvenience this may have caused. Details for room reservations, Convention registration and program will be posted when available.


Registration Form

We will have a research area at the convention with the following:

Wireless Internet access with your laptop to our various databases.
Access to hundreds of thousands of names from Poland and Volhynia, many of which were extracted from Polish church books and which are not available in any other database. They contain more detail than is available on the SGGEE website.
Eastern Volhynian records -1941 to 1944 for marriages, confirmations and birth records with some birth records back to 1920.

Help will be available to assist in translation of documents and helping get past dead ends as well as offering general information on further research.

The Research Room will be open during most of the convention.

We invite you to join us for a weekend packed with genealogy sessions and networking.

Bring your albums, journals, stories, family histories and any  reference books or local history books you may have.  Share experiences and swap stories with others. 



The list of speakers and presentations will be posted when available.
You can visit this website or follow the SGGEE Facebook page:
https://www.facebook.com/SGGEE-450920501736548/?fref=ts
Topics of the program:
Tour of the SGGEE website
Volhynian church and religious life
Getting children and youth interested in genealogy
Conserving your family treasures
Intro to DNA and applying it to genealogy
German community in Volhynian cities
Changing map in Europe
Using maps in genealogy research
Family history toolkit
Volhynian indexing project
The convention committee welcomes suggestions for program topics or speakers.
Perhaps you have a story to tell! You can e-mail convention@sggee.org to share your ideas.
2015 Convention
2015 Convention Report (PDF)
Click picture to enlarge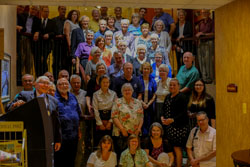 SGGEE Online Databases (PDF) by Gary Warner
A Place by Any Other Name Won't Merge (PDF) by Sigrid Pohl Perry and Gary Warner
EWZ (Einwandererzentralstelle) (PDF) by Karl Krueger - If you have problems viewing this PDF in your browser then download the file and view it with Adobe Viewer.
2014 Convention
2014 Convention Report (PDF)
Legacy Family Tree Webinars: Legacy Family Tree - an Overview by Geoff Rasmussen
Legacy Family Tree Webinars: Legacy Family Tree - Beyond the Basics by Geoff Rasmussen
2013 Convention
2013 Convention Report (PDF)
Click picture to enlarge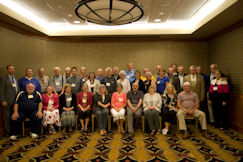 Tracking the Tribe (full PowerPoint presentation, large file, long download) by Sigrid Pohl Perry

SGGEE Online Databases ‐ how to get the most out of them, and also how to prepare your data for submission to the MPD Database by Gary Warner
For presentations by Jerry Frank, refer to December 2001 and March 2002 Journals (members only)

2012 Convention - Regina, Saskatchewan
Report (PDF)
Picture

Tracking the Tribe (PDF) handout
Presentations about Legacy software:
Legacy Overview (PDF)
12 Step Checklist Comparison (PDF)
2011 Convention - Winnipeg, Manitoba
2010 Convention - Edmonton, Alberta
2009 Convention - Milwaukee, Wisconsin
2008 Convention - Kelowna, British Columbia
(no report submitted)
2007 Convention - Calgary, Alberta
2006 Convention - Edmonton, Alberta
2005 Convention - St. Paul, Minnesota
2004 Convention - Calgary Alberta
2003 Convention - Edmonton, Alberta
2002 Convention - Regina, Saskatchewan
2001 Convention - Tacoma, Washington