Welcome to SGGEE

SGGEE focuses on the genealogy of Germans from Russian Poland and Volhynia with some help for related regions.
| | | |
| --- | --- | --- |
| Why not consider joining us | | or renewing your membership? |
Website News
You will find that this site works best using a quality browser like Firefox or Google Chrome.
_________
Convention Update
Please see updated information regarding the annual meeting in Minneapolis, MN this year.
_________
December 2016 SGGEE Journal
The December 2016 issue of the SGGEE Journal is now posted in the Members' area of the website. In this issue you'll find Karl Krueger's story of his father's adventures following World War II as he tried to bring his family to the West. Our second article is provided by Peter von Pazatka Lipinsky regarding his personal experience in finding information on the Volhynian village where his wife grew up. Dr. Fritz Juengling writes about the new changes to the online Meyer's Gazetteer and the enhanced search ability to enhance your family research. Edie Adam has provided additional locations for lodging during the 2017 convention to be held in July in Minneapolis. The convention hotel is sold out so if you plan on attending, you will need to make alternate arrangements.
_________
Volhynian Archives Indexes from 1900-1918
Volhynian Archives Indexes from 1900-1918 are now available in the Members Only section and are listed at the bottom of the Jump Start column.  These Indexes are from records which are in the Zhytomyr Oblast Archives and are not available online.  The records represent entries covering Lutheran births, deaths and marriages over the period from 1900 to approximately 1918.
_________
Rozyszcze parish marriages (1862-1909)
SGGEE is pleased to announce a significant enhancement to the Volhynia-Kiev-Podolia (VKP) marriages database relating to the Polish (western) Volhynia area. In summary, all of the available Rozyszcze parish marriages from the founding of the parish in 1862 to 1909 (some 12000 marriages in total) with links to online scans of the original documents are now in the public and members only VKP databases.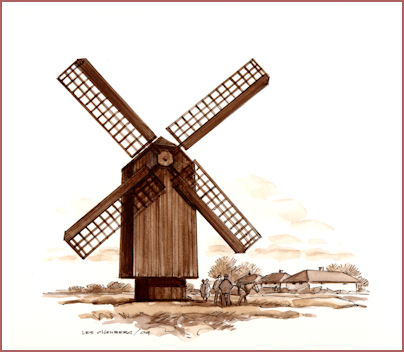 Volhynian Flour Mill - artistry by member Les Ollenberg
(see our Credits Page for more art by Les)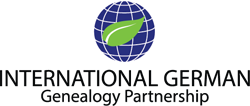 Formerly German-American Genealogical Partnership
SGGEE is a member of IGGP.